Moderator: ArchFluffy
Moderator
Posts: 279
Joined: Sat Jul 02, 2005 8:19 am
I've got a K31. Got it in 2002. Haven't fired it in probably six or eight years. The ammo is a little on the expensive side. But... I remember it shooting pretty straight and feeling all quality in design and manufacture. I don't remember it kicking near as hard as the Mausers and Enfields and Nagants. Love the smooth straight pull bolt, the beefy front sight ears, and the extra engineering side bolt lock.

The buttstock is scared up a bit. The story was that the Swiss soldiers had to train in the snow with their boots hobnailed. Between the butts resting on the ground in the snow and boot contact... the scar evidence could be seen on most surplus guns. Maybe so...maybe internet palaver.

Mine has a name and address under the plate too. Looked it up on the internet once. Looked like some fairly modern apartments.
Moderator
Posts: 3881
Joined: Mon Oct 06, 2003 2:48 pm
Location: UK
I had this 96/11 for a number of years until I swapped it last year for a Parker Hale 451 Volunteer. My friend who owns it now calls it his laser rifle, it is a very accurate weapon.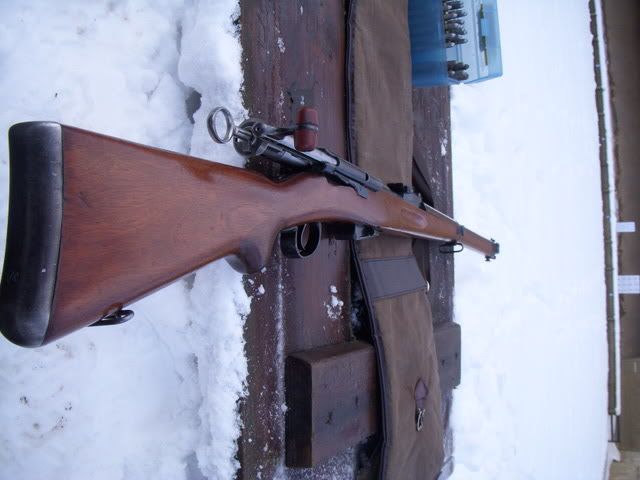 Global Moderator Sponsor 2011-2017
Posts: 9884
Joined: Fri Oct 06, 2006 3:08 pm
Location: S.W.France
Contact:
I have none BUT I just put a bid in for this.............
http://www.naturabuy.fr/Carabine-repeti ... 62763.html
I also just bought this
Swiss Magazine Loading Rifles 1869 to 1958, 2nd ed Author: Joe Poyer.
Always fancied one and there are some good prices currently on NaturaBuy. PRVI Partizan ammo - €1,00 / £0.87 / $1.07 a round! but IF I bought one I would reload for it.
Duncan
What contemptible scoundrel has stolen the cork to my lunch? -- W.C. Fields
"Many of those who enjoy freedom know little of its price."
You can't fix Stupid, but you can occasionally head it off before it hurts something.
http://www.twgpp.org
http://www.andrewsinfrance.co.uk
Moderator
Posts: 2879
Joined: Wed Jun 22, 2005 5:59 am
Location: Glen Innes, NSW, Australia
I have a K31 and it is very accurate but it doesn't get much use, probably because of early associations I prefer the SMLE (after all I've slept with an SMLE
).
Self Defence is not only a Right, it is an Obligation.

Eoin.
Moderator
Posts: 279
Joined: Sat Jul 02, 2005 8:19 am
Fantastic rifles, gang! That's a beauty Peter
They can really be lot of fun and sure get some attention at the range. I'm glad that Duncan is even feeling the love.
A K31 was the first rifle I ever owned. I just kept getting more of them.
I was never really into firearms but would tag along with family when they went shows and I'd mostly check out the surplus gear and antiques and stuff (free jerky samples! Yum!). Then one day I saw this strange Swiss rifle and that got me started.
-ArchFluffy